Cronos is a Canadian cryptocurrency that allows private transactions and decentralized applications. It has become a popular choice for investing in crypto because transactions are very easy on this network.
It is built on the Quorum platform, and it uses a unique algorithm to secure the network, which is very similar to the proof of stake consensus. In short, the network is secured by the currency holder, not by miners who use computational power to solve mathematical problems like the consensus used in Bitcoin and Ethereum.
CRO is the native coin of this network. Anyone who wants to mine a block must have a balance of 1000 CRO. It offers more security, flexibility, and ease of use. It uses a state-of-the-art security protocol to keep users' funds safe. The user-friendliness and transaction speed make it a flexible cryptocurrency.
Indeed it is too early to predict the future of this coin. It has become popular because of its user-friendliness, and more people are using it. However, as it is a new cryptocurrency, it needs much development.
It must work on marketing, branding, and security because it keeps the transactions anonymous. Based on blockchain technology, it uses a decentralized system for transparent, secure, and tamper-proof transactions.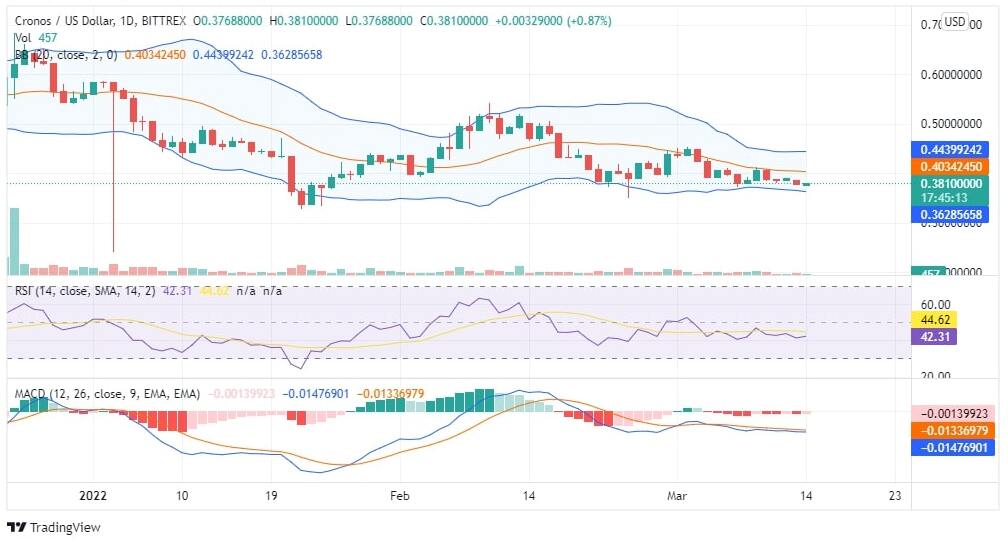 At the time of writing this post, CRO was trading around $0.38; traders can find a side-wise movement within a range of $0.44 and $0.37. It means the coin is around the support level, and there is a high chance of this level being broken and finding new support at the lower range.
Whether you are a long-term or short-term investor, it is not the ideal time for investment as per the analysis. Interestingly, the next support level can be $0.32, and $0.55 will work as a strong resistance level.
The MACD line is neutral; the RSI is around 42, and candlesticks are forming in the lower half of the Bollinger Band with low volatility. Indeed, the chart is bearish in the short term, but traders should read more to explore the possible price levels of CRO for the following years. Let's analyze the weekly chart to get the long-term view.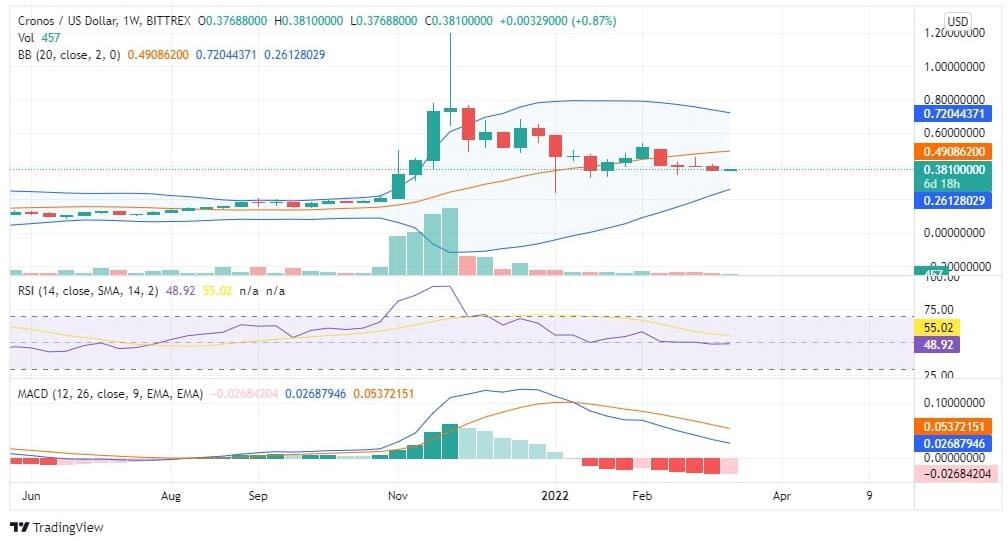 On the weekly chart, candlesticks are forming around the baseline of the Bollinger Band, which seems to be a support level, but the MACD line and RSI line reflect moderate bearishness.
Overall, we do not think it is the right investment time because most of the indicators show neutral or bearish signals. We recommend you keep a close eye on the price chart as Cronos has potential future growth, so you should find the ideal opportunity to invest.