Introduction Of Online Trading Platforms
Investors can now trade in multiple products at their convenience. This has been made possible by every existing online trading platform.
The digital version of a trading platform comes equipped with the necessary tools required to transact stocks or any other product. Many platforms offer extensive support by enabling their investors to view real-time market insights.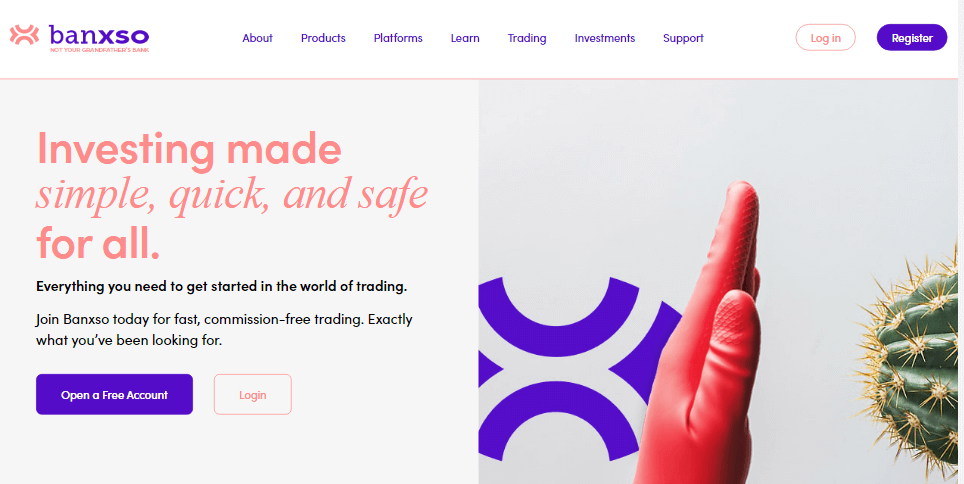 Earlier, brokers had to receive a call from their clients, confirm the value, and execute the operation. This can now be done with a few taps without getting in touch with the broker. While brokers still function as usual, the need to call them has nearly vanished.
Overall, an online trading platform offers investors a convenient landscape to play with as many financial instruments as possible.
What Is Banxso?
Banxso stands out among all available online platforms with its unique AI-based functioning.
Banxso is an online trading platform based on the concept of CFD, short for Contract for Difference. It understands that every investor has a different goal. Some hold their investments for the short term while some hold their investments for the long term.
It aims to meet the requirements of all such investors. An investor who has registered on Banxso can trade in multiple products simultaneously. This is a great offer for those looking to expand their trading portfolio.
The official website is managed by Zenfin Financial Services. Anyone can register on the official website to get started with their trading journey.
Investors can balance the risk of investment through the education that is imparted by Banxso. The online trading platform encourages every type of investor to invest smartly. This includes investors who are either getting started or already have a lot of experience.
Regulation Of Banxso
Banxso operates in an entirely legitimate manner. It is regulated by the South African Financial Sector Conduct Authority (FSCA) No. 37699.
Banxso functions legally in all major countries of the European Union. It extends to those who don't reside in a European Union country but hold European citizenship. The functions of Banxso also extend to other countries except for the ones that are yet to recognize CFD-based trading.
A list of countries where the operations of Banxso are restricted includes India, Canada, North Korea, Pakistan, and New Zealand, to mention a few.
The Financial Sector Conduct Authority is a well-known and reliable regulator. It looks after the ways in which trading is carried out in the market.
The objective, as set out by the Financial Sector Conduct Authority, is to protect the financials of the customers by ensuring that they are treated fairly by online trading platforms. It additionally aims to enhance the trading experience and offer better support in the financial market.
Products Offered By Banxso
A total of five products are offered by Banxso. A registered Banxso trader is at liberty to choose the trading product based on his style and preference. Investors can later navigate among different products as well.
Forex
Forex or Foreign Exchange is a topic that refuses to fade away. It is ideal for investors who want to start their trading journey in the financial market.
Many experienced investors also find it convenient to trade Forex. Banxso's online product received wide acceptance because it is easy to understand and acts as a reliable option.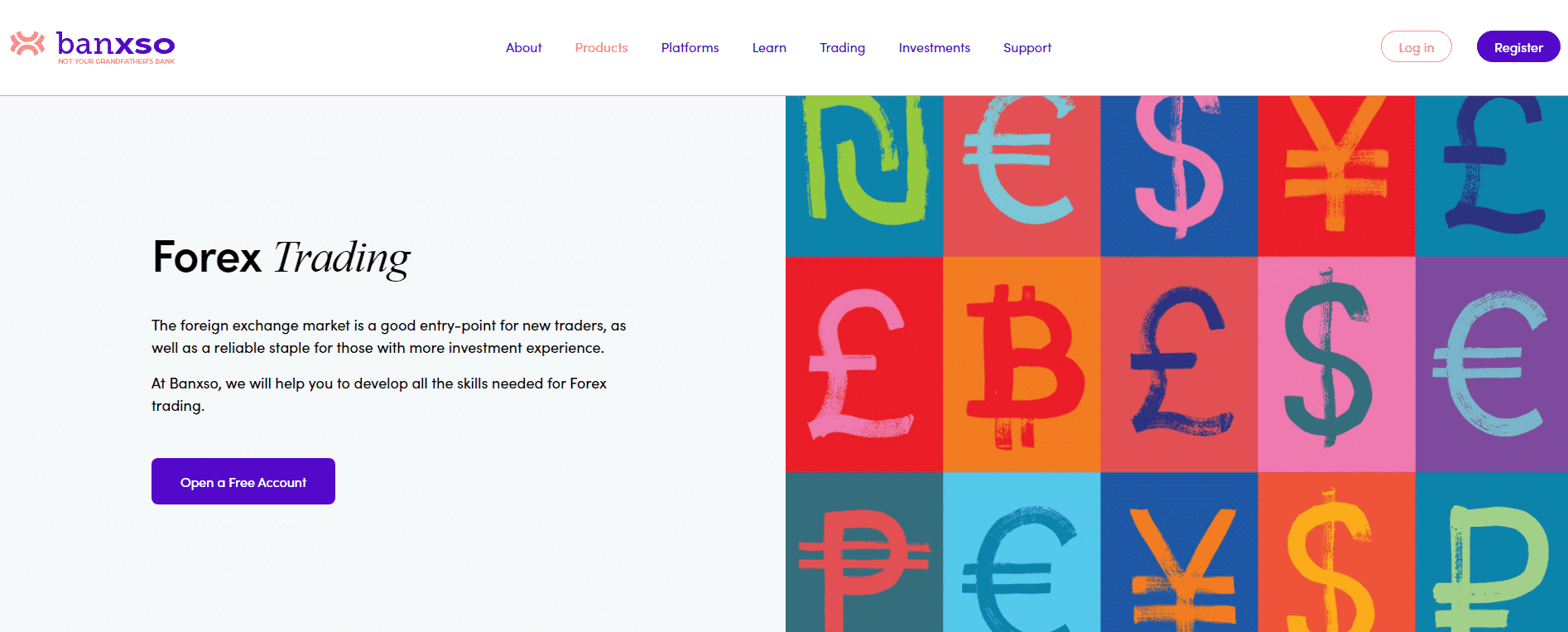 One can easily expect significant returns after investing a small amount of capital in Forex. The availability of a large pool of data enables the investors to know more about Forex.
Forex trading is available 24 hours 5 days a week. It carries a lower risk of sudden fluctuations. A drop comes only after creating a trend, something that is easy to analyze.
One can also look into Forex Options Trading. It allows an investor to predict the future price of the product and invest only if it matches the predicted price.
Stocks
A traditional product that is still in fashion. Investors look into investing in their favorite stock and gaining potential profit.
Basic knowledge about the stock is important to earn a handsome amount of gain with a smaller investment. Their prices rise and fall based on the trend that can be studied either based on past performance or by following the current headlines.
The key is to perform trades that are intelligent. A fall in the market does not signify that prices will never rise again. Investors end up selling their stocks out of fear that they will lose their money.
To be practical, investors do lose their money but only if the company hides the gloomy performance behind the annual reports with fake figures.
Banxso offers real-time insights about the stock market and tools to transact the stock in or out. Profits can be earned by applying knowledge at the right place at the right time.
Commodities
Commodities are often integrated into the system because of the options that they further offer to investors. This offers a wider horizon to investors, who can select the type of Commodity that they wish to deal in.
It offers an option to trade in Energy Commodities, Metal Commodities, and Soft Commodities. Every type of commodity differs from the other.

Energy Commodity deals with Renewable and Non-Renewable sub-categories. The Renewable Commodity comprises wind power, biomass, and solar. Non-renewable Commodity comprises coal, oil, and gas.
Soft Commodity deals with a variety of agricultural products. The list includes cotton, wheat, and soybeans, to mention a few. These are considered to be more reliable than Energy Commodity.
Metal Commodity includes gold, copper, and silver, to name a few. They are considered reliable as they have been in the trading market for a long time.
Cryptocurrency
Cryptocurrency is something that has evolved in recent years. Countries have started recognizing cryptocurrency as a reliable option for investment. Most of them have also begun looking at cryptocurrency as a healthy alternative to traditional currency regulated by the government.
Banxso enables its registered investors to trade DMA in cryptocurrency. The online trading platform has listed all the major cryptocurrencies on its board. Nearly all cryptocurrencies carry a market value of thousands of dollars.
It is highly volatile and carries the risk of huge financial loss. Therefore, Banxso asks its investors to be cautious while trading cryptocurrency.
The entire cryptocurrency industry is in its nascent stage. Only a limited number of people have got their hands on it for trade-related purposes. This is probably a great time to capitalize on the smaller investment.
A beginner-friendly environment created by Banxso assists early investors to get started. Experienced investors can also diversify their crypto portfolios.
Indices
Indices serve as a perfect trading option for those who prefer to focus on global and regional markets instead of individual stocks. It requires an investor to have sufficient knowledge of the global market before performing the trade.
It is mostly preferred by investors who look to hold on to a product for the long term. Investors have derived profits from indices by holding them for the short term as well; however, experts recommend looking for a wider future.

The market value of indices is derived by calculating the weighted average of the collection of assets. Banxso provides valuable insights to investors to help them make a final call.
Beginners get equal access to these insights. They can also trade them on the online trading platform with confidence.
The information available and the previous trend help them make an informed decision. It can get tricky for seasonal investors but long-term investors can hope for a better return.
Trading Platforms
Offering access to different trading platforms is a sign of transparency. Banxso investors prefer to stay with Banxso because it stands true to its ideology of being completely transparent with the investors.
Here are the trading platforms that it offers.
Meta Trader 5
Meta Trader 5 is a huge improvement compared to its previous versions. The 64-bit digital trading platform covers both types of financial markets. These include the Centralized financial market and the Non-Centralized financial market.
It appears to be working on the line of Forex but the scope of Meta Trader 5 goes way beyond Forex. It is a multi-asset platform where investors can trade in a large number of assets.
The Algorithm trading feature offered by Meta Trader 5 is a great advancement. Investors get access to reliable information, enabling them to trade products accordingly.
Being able to review multi-assets gives investors more power to navigate their way into earning higher returns. They are not restricted to trading only selected assets.
While Forex and Meta Trader 5 belong to different categories, it makes sense to compare both of them because of the number of asset options that they offer to investors.
Mobile Platform
Investors seek on-the-go support and the ability to trade anywhere in the world. This is achieved by Banxso's Mobile Platform for Android and iOS.
It is not restricted by geographical location. Banxso investors can tap their fingers on the mobile device and trade within a minute. They are not required to have a laptop or desktop in front of them.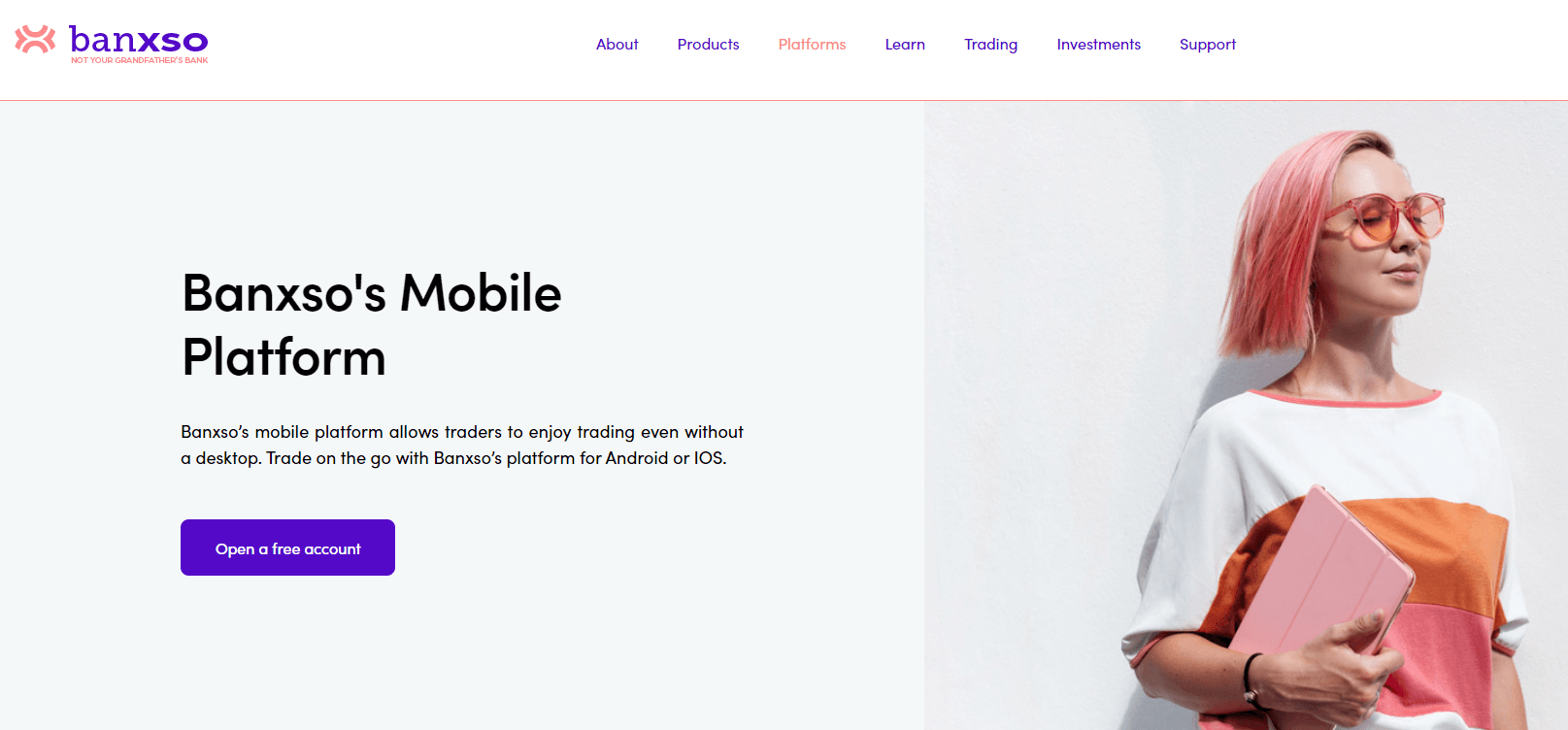 The availability of comprehensive analytical resources and the complete set of trading make the Mobile Platform of Banxso outstanding.
There is no difference between the full-fledged version of the trading platform and the Mobile Platform. Investors can trade on their mobile devices, provided they have access to a stable and good-quality internet connection.
Mobile Platform enables investors to review their past transaction activities. Investors can also keep track of their trading account through the Mobile Platform.
Trading Accounts On Banxso
Banxso offers a lot to investors who register on the online trading platform. This starts with access to a demo account. It helps a beginner understand how trading works.
Experienced investors can also opt for a demo account to understand how the individual dashboard works. Investors can easily master the tools offered to them. They can switch to a full-fledged trading account once they are clear with all the aspects of the platform.
Banxso does not charge anything to open a trading account. Anyone can register, irrespective of the amount of experience they have in the world of trading.
A Banxso investor can trade whenever and wherever they want. One thing that must be kept in mind is that the Contract for Differences may be subject to tax regulations in certain countries. It is recommended that investors check with the relevant department before registering on the online trading platform.
Every trading account on Banxso has access to real-time market analysis. It charges a very low-profit margin so that investors can make their investments more profitable.
Trading Experience On Banxso
Banxso excels in welcoming every investor irrespective of their trading experience.
Beginners and experienced investors can get on board. Both are granted equal access to market insights, tools, and regular updates. This is part of Banxso's commitment to offering a level playing field to all investors irrespective of their background.
The AI-based trading system makes it easier to analyze the trading products. It eliminates the need to contact a broker and promotes better decision-making.
Banxso does not charge any hidden fees from its investors. This further enhances the trading experience. Investors can be assured that they will be charged only the amount that has been shared with them.
It improves the trading experience by offering an overview of the trading platform. Investors are able to predict the future of their holdings in a better manner.
What Is Included Under Banxso Education?
The online trading platform stands true to its commitment to educating all investors by offering them an opportunity to participate in its academy free of cost.
Here are four things that it focuses on under Banxso Education:
Online Courses
Banxso's Online Courses consider the schedule of every investor. Since every investor does not work full-time, it ensures that the course remains available on the platform throughout the day and night.
It covers different topics related to trading products and trading platforms. The sessions are hosted by industry experts.
Personal Coaching
Investors who have registered on Banxso can avail the benefit of being coached by an expert. Mentors aim to increase the growth of the investor's portfolio by sharing their knowledge and recommending the changes.
The sessions are conducted face-to-face, giving investors enough time to get comfortable, understand all the details, and ask questions.
Trading Ideas

The Banxso investor community exchanges ideas and experiences. This helps others to understand how to make decisions or avoid mistakes. It includes analyzing technical details and predicting the future.
Members aim to form a solid ground for investment by reviewing the potential impact of a headline on the trading market.
Webinars
Webinars organized by Banxso are interactive sessions to answer questions. Investors exchange opinions among themselves.
The host may choose to conduct a webinar by sharing videos, presentations, or voice notes.
Banxso – Customer Support
Investors feel relaxed on Banxso. The reason is its customer support service. Banxso has made all customer support options available to its investors. Investors can get their queries resolved at any time, from anywhere, and through any mode of communication.
The email support is available 24 hours at support@banxso.com. Investors are required to send the email along with their contact number and name. They can raise their issues over the telephone as well. The calling number is 0800-99-7915. It is available 24 hours 5 days a week.
Investors can access the option of live chat to directly connect to the customer support representative. The service remains available 24 hours 5 days a week.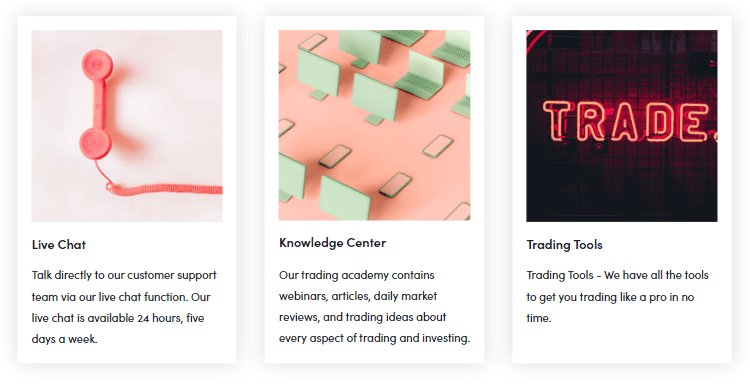 Final Thoughts On Banxso
The excellence and professionalism of Banxso cannot be adequately praised. One must experience it first-hand. There is very little room for disappointment with a well-grounded customer support staff at one's accessibility.